I love this blog idea. It all started with Austen proclaiming that Pig was Emperor Kuzco.
"You know when you watch a movie and think to yourself "Whoa. This character is just like so-and-so!"? Well, I'm sure we've also had that moment with our horses."
Now there's one thing you need to understand. Tucker reminds a lot of people about a lot of different things. I've heard anywhere from a Thelwell pony to a squirrel.
I'm not sure I understand the squirrel analogy. He is for sure a special guy with a big personality.
I asked John what character he thought Tucker would be. He didn't have a ready answer so I started throwing out ideas.
Cookie Monster because of his over enthusiasm about eating. That didn't quite fit though.
Slimer (from The Real Ghost Busters cartoon not the movie) cute, lovable, hungry, slimy but that also didn't seem quite right.
John said he'd always thought of Tucker as one of those stereotypical football players. Big and not to bright but really sweet. I'm not sure that I agree with that though. He is big and sweet. But he's not dumb. I can see how people might think that he is though.
And that's when it hit me. Tucker is Joey Tribbiani from Friends.
He's passionately addicted to eating.
Like for real.
He's a bit of a play boy.
He's got a sense of humour.
He has no problem with what he looks like.
He has his dumb freak out moments.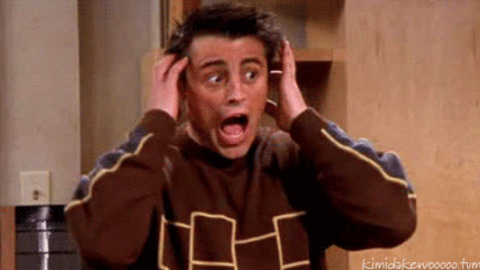 But you can't keep him down.
He can be versatile.
We don't always speak the same language.
Sometimes he can be pretty smart.
He's completely lovable.
Thanks Austen for the idea!