Lessons lately have been fairly craptastic. Not the lessons themselves and not 100% of the lesson. But basically it seems as though I've forgotten how to ride. But that's riding. Hopefully I get my shit back together before the show next weekend. Anyways on with more exciting things.
A while ago Amanda from The $900 Facebook Pony posted about all the beautiful things that she wants. I thought that was a great idea. If for no other reason than to get a rough idea of how much $$$ I'll have to save for all the pretty things. An alternate title to this post would be: 5 things I must not use my line of credit for.
1. MDC stirrup irons and covers – I've been seeing a bunch of posts from people about their stirrups and how they affect their leg stability and joint pain. I'd never really given this much thought. Yes I have knee issues but I never equated it to the stirrup. My leg has always been fairly solid. Once upon a time I did have a young thoroughbred that liked to pretend she was a bucking bronc. My leg was the anchor keeping my butt in the saddle. But lately I've noticed a bit of movement. I could be imagining it but regardless it would be nice to try out some new stirrups to see if they help.
The covers are fairly self-explanatory. Or maybe not. Basically I'm lazy. When it's super mucky both Tucker and I get covered in mud. He's got pretty short legs and paddles for feet. I don't like cleaning my stirrups when they are wet, it's easier once they've dried off. I also don't want to put muddy stirrups on my saddle. A pretty pair of stirrup covers would solve my problems.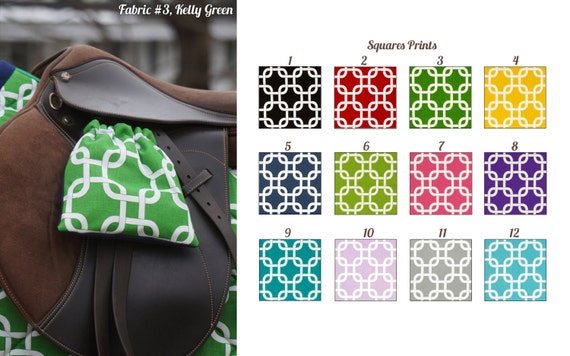 2. Custom field boots – I don't really have much of a choice when it comes to field boots. I have to go custom or semi-custom. My leg is to long and my calf to wide to fit off the shelf. Sad face. I have a pair of semi-custom Cavallos that I'm just not really happy with. They bubble quite a bit at the back which is annoying. I think that the only way to get the fit I want will be to go fully custom. I'm to frugal though so I'll wear what I've got and try to make them last. In the mean time I'll save up for a pair of custom Cavallos or maybe Der Daus. 
3. Hansen Equestrian saddle cover – I really don't need this. My saddle came with a Childeric cover when I bought it. Not to mention I rarely even put the cover on it. But Hansen covers are so pretty. I swear I'd use it… 
4. Hayward custom shadbelly and jacket – Are we noticing a trend here? I also haven't been able to find an off the rack jacket. Another sad face. Currently I have a custom Chavez jacket. It's nice, I like it, and I think that the quality if really good. But it would be nice to have options and it would be nice to have a second jacket for those weekends when I show multiple days. Putting that sweaty jacket on for a second or even third day can be kinda gross.
And who doesn't want a shadbelly. So fancy. I like to ride classics and derbies when they are offered. It would be nice to look the part.
5. Dyon anatomic fancy stitch padded hunter bridle – I really don't need this either. I just bought a padded bridle that I'm surprisingly happy with considering I only spent $50ish. And I'm not even sure the Dyon will fit his head. But the leather seems so nice, and I'd be really interested to see if the anatomic feature makes any difference. 
That's it or at least the big stuff I'm not likely to splurge on anytime soon. What's on your stuff to save for list?